Scriptorium is a language learning technique developed by Alexander Arguelles. It is primarily an exercise in writing.
With this method, one may develop several things:
1. Better writing in the target language.
2. Better understanding of the correspondence between speech and writing.
3. An ability to write at a more stylistic level in the target language.
4. It develops working memory (the centre of all learning).
5. Develop one's focus.
Basic method
Edit
Take a sentence and read it aloud.
Speak aloud again as you write it carefully.
Read the sentence aloud from what you have written.
Recommended
Edit
Check unknown words and grammar in a dictionary and grammar respectively.
Do this exercise slowly, the aim is to pay attention to fine detail.
Best used extensively at intermediate and advanced levels.
For beginners, start with course-book sentences.
At the beginner level: also read out the (L1) translation the first time.
Try to do sessions of approximately 15 minutes.
Original HTLAL Thread
Edit
HTLAL thread: Scriptorium demonstration video
Video demonstration
Edit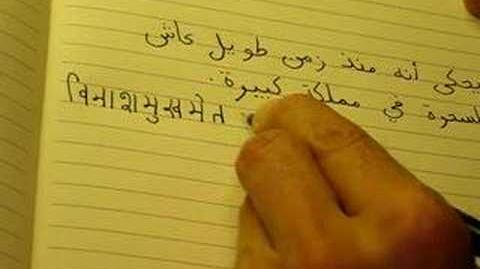 Ad blocker interference detected!
Wikia is a free-to-use site that makes money from advertising. We have a modified experience for viewers using ad blockers

Wikia is not accessible if you've made further modifications. Remove the custom ad blocker rule(s) and the page will load as expected.